About the author
You can find bits of my life on IG: @chefkamu
Kamila Rundusová - KAMU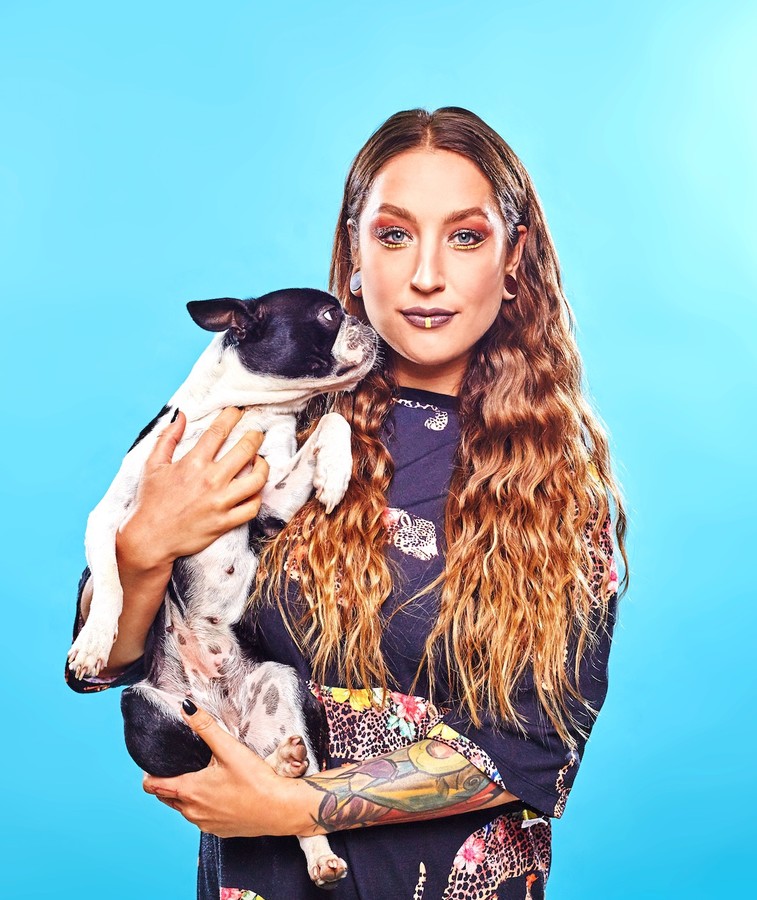 (born 6th of February 1990 in Prague)
I started chef career in New Zealand where I went right after completing my studies at the Secondary School of Gastronomy in Prague. As a part of my work experience during the studies, I worked at the Hilton or InterContinental hotels where I learned the fundamentals of working in a kitchen. Furthermore, I have worked as a chef in Australia, England, China, Peru, Vietnam and Thailand, or at Jamie Oliver's restaurant in London and at the Michelin-star restaurant La Degustation Boheme Bourgeoise in Prague. I have filmed two travel and cooking documentary series (Kamu in Vietnam and Kamu in Mexico) for Czech Television and published two books - Nejbarevnější kuchařka (The Most Colourful Cookbook), which is a collection of stories from my trips to various countries, and Nejbarevnější Mexico (The Most Colourful Mexico), which is all about a single country - Mexico. Currently I am travelling in our expedition van around Europe working on my third cookbook!
If you are still wondering who I am, READ MY STORY
My name is Kamila Rundusová. I fell in love with cooking and eating amazing food when I was just a little girl. At the age of three, my mum started calling me "Kamu" and since then, it stuck. Everyone now knows me by this nickname. And I love it! 
When I was thirteen my father left our family home. It was up to my mum to work hard and support us single-handedly. At that exact moment in my life, I knew it was my time to step up and help out. I looked after our household, raised my seven-year-old brother and cooked for all of us. From breakfast to dinner. It became an ordinary activity for me, and it was rewarding for me to serve up warm meals for my family. I first began learning how to cook from my wonderful grandma and by watching Jamie Oliver on TV. That was my life! All those cooking shows. Oh, how I loved them!
When I was nineteen, I completed my culinary degree at the Secondary School of Gastronomy in Prague. Shortly after this, I took a trip to New Zealand where I started to work in real restaurants. I was really motivated to become a chef. I realised at that moment, this was my life and I wanted to know everything there is to know about food. I worked in many types of restaurants, but I always had a curiosity for Asian food. So, I went to Australia in order to make some extra cash which would support me while travelling. I found a sous chef position in a beautiful restaurant and at the same time I worked at a seafood restaurant where I was doing night shifts cleaning and scrubbing 50kg of mussels every night. In total, I was working 20 hours a day 7 days a week! I had no days off for six months. It was exhausting but I really appreciated every moment. It was a life changing experience which taught me to be a lot tougher and strong minded.
But above all, these opportunities allowed me to travel! I went all the way to Vietnam where I was continuously meeting amazing people who let me cook with them. There was a Vietnamese family who practically adopted me. I stayed with them and worked in their street restaurant. I would wake up at 4 am to prepare 200 litres of wonderfully aromatic pho broth and then sell it to hungry locals. I travelled the whole country and cooked national meals in every region. I then moved on to Thailand where I worked with a Michelin awarded chef as well as in a little street food kiosk selling phad thai. I travelled to China to cook and taste the superb cuisine. While travelling across countries I was eating, cooking and meeting amazing people. After my Asian experience,my curiosity for South American cuisine, which was very addictive, was awakened. With it's fantastic flavours and ingredients of ceviche's, fresh coriander and sour limes, who doesn't love it?! It's all just so good. 
 After my travels, I returned to Europe. I worked in Prague in the Michelin awarded restaurant, La Degustation Boheme Bourgouis. It was yet another fantastic experience. I was extremely grateful, however, there was still a dream of mine which I had since I was a child which was to work for my hero, Jamie Oliver. I went to London and walked into his restaurant in Greenwich to ask for a job. I was asked to do a trial shift the next day and I got the job! I was working on the grill station, flipping 200 steaks on an open flame every night. I loved this game...it was like Tetris. 
After my London experience, I came back home to Prague and opened up a restaurant with investors. Unfortunately, it did not work out and they let me down, big time! They let me work on my own concept for almost a year and once we opened the restaurant and it became successful, they dropped me, and I didn't get a penny! It was a really hard time, but it definitely taught me an important life lesson, trust and strength. 
That was the time I shot my first season of travelling TV show (Vietnam) and had this amazing idea to put together all knowledge I have gained from six years of travelling, cooking and eating into one book and most importantly, achieve something by myself. This book became my favourite thing ever. It took me one year to finish this colourful beast of a book which I am very happy and proud of! I published it by myself and I been selling it by myself. After I finish my first book, I had to make an another one. I just fell in love with writing and making books. When we finished my second season of TV this time in Mexico I made my second book along with it.
I hope you enjoy my books it as much as I loved writing and making it!